About FunaVid
FunaVid (Fundación Agrícola Vid) is a Honduran non-governmental organization founded in 2004 by Dr. and Mrs. Dodson and established in La Ceiba, Atlantida, Honduras. The foundation is recognized as a civil, humanitarian, educational and non-profit organization that has its headquarters in Lucinda, Colon, 50 km east of La Ceiba, in a rural setting.
Dr. Dodson showing where the FunaVid lands are. The little white thing in the centre is a 'champa' (shelter) well up the mountain. Photo Tiiu Miller 2009
FunaVid aims to alleviate poverty in rural areas and reduce slash and burn agriculture by promoting better, more sustainable practices, such as Inga alley cropping as a replacement for the slash and burn, according to local needs. Such solutions will all be based on scientific research, but will also incorporate local knowledge.
FunaVid is working closely with CURLA. CURLA is a regional center of Honduras´ National University with six programs of study: agriculture, forestry, agricultural economics, ecotourism, nursing, and business. The mandate of the university is to carry out research and development to substantiate the programs of study and improve the quality of life of Honduran citizens.
The FunaVid center contains a hangar under which there are two 3 bedroom apartments, a kitchen that can serve as many as 100 people simultaneously, ample space for meetings and/or training sessions plus an office equipped with 3 desks, 2 computers with all capabilities, a telephone, copier, and projection equipment. There are two dormitories with bunk beds for 18 men and 12 women; additionally there is a two story building which has four apartments fully equipped to receive researchers, professors or any other visitors, such as mayors who might want to implement the (Inga system in their city's jurisdictions. All the buildings are air conditioned (making mosquito nets unnecessary), and clean safe water has been brought down from a mountain spring both to the FunaVid premises and to the small community of about 50 people who live adjacent to FunaVid.

The two story building outside and inside. Photo Guillermo Valle and T. Miller 2009
There is a separate building that can serve as a classroom for 30-40 students. There is also a shed to house two tractors with their implements, a Kawasaki all-terrain vehicle and all sorts of tools. FunaVid also owns two four-wheel drive crew cab trucks.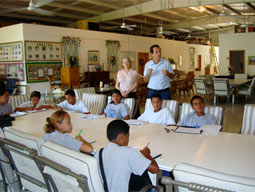 Dr. Valle teaching about agriculture at FunaVid. Photo Dr. Dodson 2009
A small house on the premises serves as living quarters for any watchman and family.
On the slopes above these facilities, there are 160 ha of an original forest and secondary regrowth of the same. Much of the mountain was cattle pasture when FunaVid bought it, but pasture has been allowed to regenerate into forest. In eight years it has grown a lot, more higher up where the soil appears to be better, perhaps because it may have been farmed, either for crops or pasture, for a shorter time.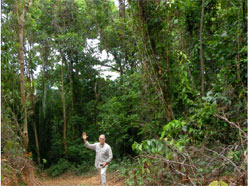 Dr. Dodson on regenerated rainforest on FunaVid land. Photo Tiiu Miller 2009
On areas where pasture is sown, the guama system has been implemented and is being tested. At the same time it serves as field school for trainees.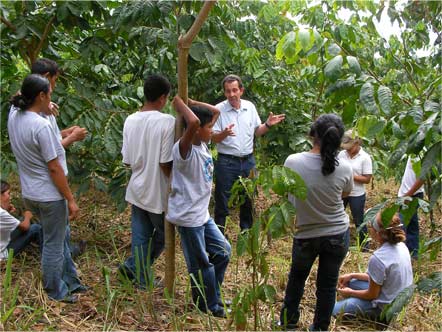 Teaching about the Inga within the alley on the mountain side. Photo Tiiu. Miller 2009
On the other side of the road that bisects the property, there are 38 hectares sown with pasture and more infrastructure: a stable for milking cows, chicken coops, pigpens for 10 sows, fishpond, a classroom for 40 students, living quarters for 20 persons and divided pastures.
Apart from this infrastructure, FunaVid has a working alliance with CURLA (part of the National University of Honduras), which has provided the capabilities of one PhD in animal nutrition and sustainable development, one PhD in mineral nutrition of plants, and students doing masters degrees in several areas, specially in soils, plus the expertise of several other faculty members when needed. There are modular training sessions in soils, plant physiology, plant protection, and also agroforestry, with practical work carried out on the Inga sites planted with crops at FunaVid premises. There are also training sessions with local area high schools and the students practice what is taught at FunaVid Inga sites. FunaVid recently had the visit of a PhD in plant medicine student from the University of Florida who did an inventory of pests and diseases as an intern for 7 weeks. See http://www.rainforestsaver.org/latest-news-and-news-archives/no11-article-1-technical-aspects-of-my-internship-insects-and-disease/
Founding principles
FunaVid was founded on the Christian principles of The School of Christ, a non-denominational organization centered on Christ. FunaVid is therefore committed to acting with total integrity and Christian love towards all, which means a genuine caring for another's well being, which has to be translated into actions for the other's benefit. FunaVid is willing to help people of all faiths or none. The only requirement is that they are willing to try to work themselves, and help others in turn.
FunaVid is a family venture. Dr. Dodson started it by investing his own money to buy the land, set up the buildings and help the neighbouring community with clean water and other facilities. Other family members support also support FunaVid.
For more information about The School of Christ please see http://www.schoolofchristinternational.com/