Trustees
Marion Luther Dodson MD (retired)
Graduate Tulane University Medical School
Specialty: ENT/head & Neck surgery
Donita Dodson
Graduate Mississippi State University for Women
Microbiology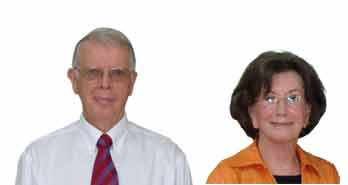 Dr. and Mrs. Dodson. Copyright © T. Miller.2009
Ligia Zuniga M.S., Scientist
Honduran
B.S. in Agronomy, Universitad Nacionas de Honduras 1973
M.S. in soil fertility, University of Mississippi 1978
Fulbright Research Scholar:Development of DRIS Norms, University of Georgia 1992
Fulbright Research Scholar: Use compost for disease suppression, University of Ohio 2004
Current activities:
Fertilizer recommendations programs to the Maya and Ecuador divisions for conventional and organic banana quality control and content of compost in Honduras. Analysis and recommendation of fertilizer quality and purchases to Maya Division, Technical Advisor to the Western Hemisphere analytical laboratory.
Jose Ramon Lobo, M.S., Honduras Research Manager
Honduras, speaks Spanish and English
B.S. Agronomy Engineer, Universidad Nacional de Honduras 1975
M.S. in Agriculture (Horticulture & Nematology Departments) University of Florida, 1079
Current activities:
Department administrator, design and conduction of research experiments.
Technical assistance to Research and Production Personnel.
Oscar Filander Reyes
Attorney: Tocoa/Tegucigalpi, Honduras
Graduate Honduras Law School
Anthony Johnson Dodson(Attorney)
Graduate Baylor University Law School
Waco, Texas
Diane Schober
Graduate Mississippi State University
Chemical Engineer
James Schober
Graduate Louisiana State University
Petroleum Engineer
Mindy Nation
Graduate Masters Degree Louisiana State University
Bio-genetic engineer
Wade Nation
Graduate Masters Degree Mississippi Southern University
Computer Science/Programming